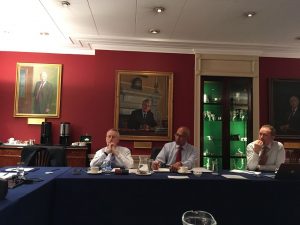 [L to R: Jim Wright, Prabhu, Giles Catcheside; photographer Michel Basse]
How many meetings have you been to where the tone wasn't personal, lively, interactive, and inspiring?  Where the outcome of the meeting was middling or worse?
The reason is that our expectations of the role of a Chairman are let down by inadequately trained Chairmen who think Chairing a meeting is easy.
In fact, there are very few trained Chairmen in the world, and even fewer who take the job as seriously, or do the job as brilliantly as Prabhu.
If you want an memorable, inspiring and maximally productive meeting, ask Prabhu to Chair it.
Both comments and pings are currently closed.